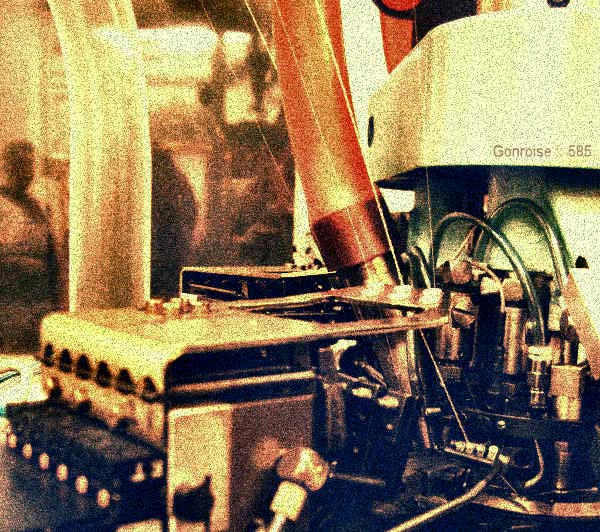 "585"
Year: 2006
Country: Israel
City: Hadera
Artist: Gonras Karols
Label: Roil Noise rec.
Format: net
Tracks: 10
Time: 32 min.
Genre: electronic
Style: Noise Ambient
As is usual comes with most editions of "Roil Noise Records", I downloaded the album from their own web randomly, out of curiosity .
The strange name and title expressionless certainly had something to do.
Not much since the information available on google Gonroise is virtually nonexistent.
Anyway, I was right.
Apparently Gonroise (deformation of the name of his young author and single component) as a project born in 2004 , in the Israeli city of Hadera .
Made it even stranger becse although there are few similar formations from Israel , it does have a hand you have not gotten out of anonymity , but get some spread outside its borders sealed.
As for the music, " 585 " is not exactly what you might expect from a disc from RNO , or at least not what I'm used to hearing from you.
Not when the intro of the album, marked by a harsh tone studded Martians blips and sounds a bit dislodged listening .
What follows does define sharp and synthetically mood, color and sound identity disc .
While it is noted as the main influence artists some noise (KK Null or Merzbow inevitable...) , certainly more easily perceives

spoken words or even screams .
Apart fr

om all this, " 585 " is a moderately original, satisfactory disk without fault .
Always oscillating in a no man's land between the sound and the industrial noise storm , clear , concise and devastating feeling that makes your listening is unpleasant , uncomfortable and always oppressive.
A base distortion, loud squeaks, monstrously deformed - or - crazed voices and disturbing noise metal one state , sinister and disturbing is transmitted permanently .
The abrupt dark metallic noise and dissipates sometimes in waves of what we might call ambient noise- hypnotic and other , more frequent , devastating performances in what could easily pass soundtrack for an apocalyptic sci- fi
futuristic , where the industrial and metal side absorbs everything to throw a grim and ghostly, always suffocating and brutal scene.
They say in RNO and not exaggerate : "Close your eyes and dive Into This painful journey of the second Beit Hamkidash destruction .
Hear the massacre , feel the pain and watch the extinction " .
Bleak.
Discogs ,
Lastfm , Bandcamp , Web , Myspace , Roil Noise Records
A view of the little city of Hadera.