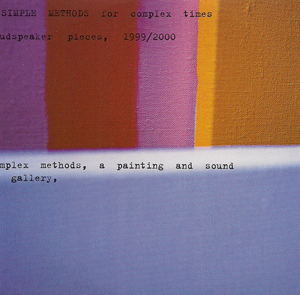 "Simple Methods For Complex Times"
Year: 2000
Country: Australia
City: Melbourne
Label: Megalomania Micromania rec.
Format: cassette
Tracks: 7
Time: 14 min.
Genre: electronic
Style: Noise Turntable
MICHAEL GRAEVE : Released to accompany "Simple Paintings for complex methods", a painting and sound installation exhibited in 14GO at Bendigo Art Gallery, Australia, 14th October - 5th November 2000. Booklet states: "Nine short improvised record player and loudspeaker pieces, 1999/2000", but there are only 7 pieces on the release. Recorded music played for a captive audience; the rhythms juggled, connections made between various types of sounds, elongated and shortened as seen fit. It's an artistic rendition of recorded material. In a noise musician hand, the music flourishes in an entirely new context. MICHAEL GRAEVE continue in this lineage with their abrasive sound art. On stage, MICHAEL GRAEVE begin playing one record before slowly adding multiple records to join in; be they hovering over the first turntable or dropped in from above, jukebox style. The records they use are worn down, scratched beyond belief or reassembled from various records or newly fitted, with a number of monstrous-looking embellishments like shards of glass. The sound they create is a pure cacophony. The harshness of the soundscapes teasingly interrupted every now and then by a comforting sound: the warm crackle of a record player, string sections, rare noises, etc. Then, back to the racket.
Discogs , Lastfm , Bandcamp , Web , Facebook , Paintings ,
Michael Graeve - Melbourne (Australia)
Michael Graeve is a visual and sound artist based in Melbourne, Australia. He exhibits and performs internationally in the contexts of abstraction and sound art. He works across painting and sound disciplines through easel painting, site-specific installation, painting and sound installation, sound performance and composit. His speciality is manipulates all kind of turntables to make all type of sounds and noises.
Here below you can see and admire the Michael Graeve's paintings.