SONOLOGYST + KSHATRIY
"Time is the enemy"
Year: 2016
Country: Italy , Russia
City: Naples ,
Label: Attenuation Circuit
Format: CD , cassette
Tracks: 5
Time: 45 min.
Genre: electronic
Style: Ambient Experimental
Sonologyst is the Raffaele Pezzella solo project from Italy. It's based on the perpetual experiment in sound, looking back to early experimentation of the Fifties and Sixties, forwarding to the future possibilities of electronic and electro-acoustic instruments, with a special attention to the relationships between music and science, music and other art forms, including literature and modern mythologies. All Sonologyst's pieces are almost completely improvised. That's why he calls his music "experimental", meaning that the result is unpredictable. His music oscillates between the scientific sonic documentary and the psychedelic abstraction. As Sonologyst, Raffaele Pezzella, is the curator of Unexplained Sounds Group, a multimedia platform created to investigate the current underground experimental worldwide music scene... and of courseShatriy is solo musical project founded on June 19, 2004 in Vsevolozhsk, Russia by Bulychev Sergey. The first step was a live gig in ESG-21. The name of the project reflects only memories of ancient society in which spiritual values were no less important than material ones. The music of 'Kshatriy' is based on drone style with ambient and noise elements, with no certain frames and accept any necessary sound sources...with delicate touch.
"Transformin galaxy"
Year: 2012
Country: Russia
City:
Vsevolozhsk
Artist:
Sergey Uak-Kib
Label: Zhelezobeton rec.
Format: CD
Edition: 500 copies
Tracks: 8
Time: 78 min.
Genre: electronic
Style: Ambient Drone Space
"Transforming Galaxy" is the second full-length album of Sergey Bulychyov (aka Uak-Kib) from Vsevolozhsk (Russia) - an imprint of direct experience of the Universe. The album is dedicated to the end of Kali-Yuga (the age of technocratic lack of spirituality and moral decay) and to the attainment of human awareness of the Unity.
There are eight brilliant compositions of psychedelic, drone and ambient combine a light atmosphere with deep multilayerness, crystal clear sound transparency with mild and sometimes uneasy melodies.
Soft organic tracks full of plangent drones, noises and natural recordings neighbor with dense and saturated hymns to calm. The disc is closed by a beautiful lyrical composition reminding us that the best way to overcome ignorance and realize unity is Love. So, very far from sinister, pessimistic or mysantropic ideas,
Sergey Bulychyov tries to induce us the sensation of the empty, quiet and
infinite space

. If you like astrology, cosmos and related themes, sure you will like this album.
Discogs , Lastfm , Bandcamp , Bandcamp Releases , Facebook , VK , Soundcloud , Google , Myspace , Zhelezobeton Records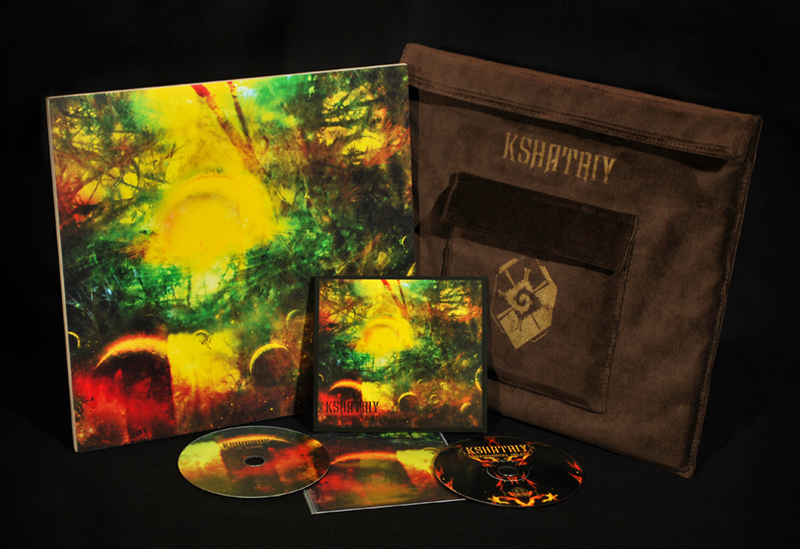 "From heart to heart"
Year: 2013
Country: Russia
City: Vsevolozhsk
Artist:
Sergey Uak-Kib
Label: Zhelezobeton
Format: CD
Edition: 500 copies
Tracks: 6
Time: 60 min.
Genre: electronic
Style: Ambient Space
KSHATRIY
pleases his fans with a regularity of his musical experiences and
"Zhelezobeton Records"
label gladly presents his third CD album "From heart to heart". Many reviewers referred Kshatriy's previous works to space dark ambient and the new album also has a cosmogonic feel to its musical images. This time everything takes place in utterly deep space, in the immense emptiness that contains the whole world.
Here below you can see a detail of Vsevolozhsk, city of
KSHATRIY
.